Ah que voilà une firme allumée et complètement branchée .
L'équivalent de notre EUROCINE , mais avec encore plus de folie , de domaines osés , mais avec quelques années de plus , et un monde où tout devient possible , et où tout ce qui dérange , qui heurte , est sûr de ne pas laisser indifférent .

Et c'est là semble -t-il le principal pour cette firme indépendante . Créée par Michael HERTZ et Lloyd KAUFMAN
(qui participeront par ailleurs à différents titres dans nombre de films) , le microbe saisit le second cité , dés 1970 .
C 'est à cette époque en effet qu'il débute sur des petits films ( ils le resteront sans doute tous , mais avec quel succès ) .

JOE ,C'EST AUSSI L'AMERIQUE , puis NIMITZ,RETOUR VERS L'ENFER , et surtout THE BATTLE OF LOVE'S RETURN , qui marque ses débuts en solo .

Plus tard il produiront des films dont on ne peut que se souvenir , même s'ils ne nous plaisent pas .


TOXIC AVENGER nous conte les mésaventures , sur un ton de parodie , d'un gars "normal" , tombé dans un fût de produits douteux , et qui se transforme en un vengeur dérangé et prêt à tout , et même au reste .


Les campus et collèges divers sont source d'évènements particuliers . Ceci à titre d'exemple dans CLASS OF NUKE'EM et ses deux suites , où les étudiants sont tour à tour transformés en d'horribles MUTANTS , SOUS-HUMANOÏDES , ou SUBHUMANOÏDES .

Les GRANDS-MERES CANNIBALES sont un exemple du mauvais goût qui peut émaner de cette firme , que rien ne dérange .
Il n'est pas impossible que le mot TRASH fut créer spécialement pour les films produits par celle-ci .


C'est en 1984 au festival de CANNES que tout sembla avoir démarré , avec la présentation de HARD ROCK ZOMBIES , et le TOXIC AVENGER précité . Mais la firme débuta en 1974 , sous la houlette des deux protagonistes .

Tout ce qui ne laisse pas indifférent , voire heurte ou provoque , y passa alors , de l'érotisme , en passant par le gore dégoulinant et à bon marché , le cannibalisme du troisième âge , l'action bien sûr , le tout arrosé d'humour premier degré , simple et esclaffant .

CINE FAZ nous a régalé de quelques oeuvres . Je n'imagine pas pour le moment d'autres chaînes emboiter le pas , mais peut-être me trompe-je .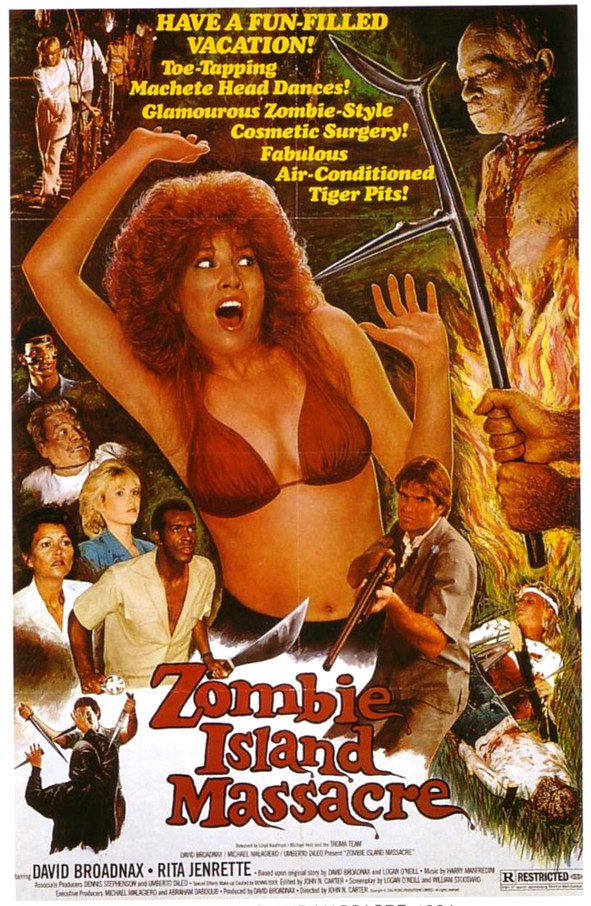 Zombie Island Massacre .